THE CONCLUDING CHAPTER OF CRAWFORD
​
"Joan Crawford Still In Spotlight"

by

Toledo Blade - September 27, 1969
Visiting Toledo For Plant Opening


Joan Crawford will have a premiere again today - not at a packed movie theater, but at the dedication of the new Pepsi-Cola Bottling plant at 3245 Hill Ave.
Miss Crawford, the first and only woman member of the board of directors of Pepsi-Cola Co. is in Toledo for the bottling plant's official opening at 10:30 a.m. today. But it was the film star of the 20's, 30's and 40's who charmed reporters at the press conference Friday in the Commodore Perry Motor Inn.
​
"I'd never get a job today if I were just beginning to act," she said. "You just don't get the training today."
The famed brunette, who is 1949 was voted "the most eligible bachelorette in America" by the American Bachelor Congress because she had "the most exciting face in the world with a figure to match," detests the trend to nudity in many movies.
The actress who won an Academy Award as Best Actress for the year for "Mildred Pierce," said that the most difficult role she ever had was learning about the world of industry.
"The other roles - of being an actress and mother - were born to me."
Miss Crawford now is one of the few actresses to survive the change from silent movie era to the "talkies."
She starred in more than 50 movies. She inherited her position with the soft drink company in 1959 when her husband, Alfred N. Steele, then chairman of the board, died.



Traveled Around The World


Working with her husband, whom she married in 1955, Miss Crawford traveled around the world.
"When we were in Africa, I thought I could get by without wearing make-up because no one would know mw," she reminisced. "But when I woke up the morning after we arrived, there were 20,000 people waiting outside to see me. They hugged me. They kissed me. They applauded me. They thought I could speak their language because they had seen my movies with subtitles."
​
Miss Crawford, who worked her way into stardom from dancing in chorus lines went to school only through the sixth grade.
"I learned everything through being in the movies. I read scripts, and if I didn't know the meaning of the word, I looked it up in the dictionary. I learned how to handle business affairs by working through my agent."
To the men she works with, she is not only a star, but also a business woman.
"I was understandably very nervous when I first met her," James L. Snyder, president of the local bottling firm, said. "But she is very easy to work with."
Miss Crawford's four adopted children have grown up and moved from home, so her business affairs take all of her time.
Newspaper photos from the Toledo Pepsi-Cola plant dedication
Collectibles
from the Toledo Pepsi-Cola plant dedication
​© All original Joan Crawford research and original text herein is property of Webmaster Bryan Johnson and is copyright protected by the United States Copyright Act of 1976.

Copyright © Bryan Johnson
September 27th, 1969 Toledo, Ohio Pepsi-Cola Plant Dedication
Pepsi-Cola press release "Toledo, The Newcomer":



​​ An illustrated new story recently published in the Toledo, Ohio blade contains this sentence "Pepsi is not a newcomer to Toledo".
Within that sufficient statement, accurate at first reading, hides and arresting . Pepsi-Cola is by no means a newcomer to the hustling industrial town with the magical name, it is nevertheless newly come to Toledo, having arrived there with a new image, a thrust as strong and keen as the name of the newspaper itself and, like it, found in history and tempered in modernity.
The history Pepsi-Cola was established in Toledo in 1952, the franchise having been purchased and subsequently open to Pepsi distribution and sales by owners Aaron Liebenthal and the late Philip Miller. And 1966 RKO general which, is an ongoing program of corporate diversification had added several Pepsi-Cola operations, purchased the Toledo Pepsi-Cola enterprise.
It then announced an immediate decision to build the most modern of manufacturing plants in Toledo to purvey Pepsi-Cola products to the four-and-one half county market.
Drawn into this decision was the city of Toledo itself, which then issued its first city sponsored industrial bonds 2.5 million of them – an issue sold under state legislation for promoting development and jobs.
Accordingly, the Toledo's Arco Industrial Park , Pepsi-Colas home and image came newly into being, founded solidly on the products' steady growth of the past , but displayed a profile as attuned to the future as a Mars shot.

The spacious 110,000 square foot plant RKO General constructed on a 12 ½ acres , handsomely landscaped site is fashioned of brown and white brick.
It houses a full complement of automatic equipment capable of producing 5 million cases of Pepsi-Cola Company products annually.
At present, to serve the highly industrial area (national manufacturers represented include Owen Illinois , Champion Spark Plug, Toledo scale, Chevrolet, Dana Corp, Kaiser Jeep) in Metropolitan Toledo (population approximately 400,000) and the sprawling rural communities within the territory (total population approximately 225,000) the Toledo organization offers Pepsi-Cola in 32, 16, 12 and 8 ounce returnables and 10 ounce one-ways, Mountain Dew in 10 ounce returnables, with 10 ounce one-way package coming up, and patio flavors root beer, grapefruit, orange, strawberry and grape in 8 ounce returnables.

At present, Teem is available in cans only. In addition, all other products - with the exception of patio grapefruit are offered in cans, furnished by the Woodlawn Canners, Inc, Co-op in Cincinnati.
In September 27, however, the shining new Toledo plant, capable of such variety of production, was bottling nothing but returnable 16 ounce Pepsi-Cola. And for very best of reasons.
For on that day, all the panning and designing and adjusting and redesigning can to fruition, and RKO Bottlers' of Toledo, Inc, received that has come to be known in the trade as a "Class A" Plant Opening Celebration.
On hand to make it so, were among others: Pepsi-Cola Company Chairman of the Board Herbert L. Barnet; Director Joan Crawford; Executive VP William Newman; Public Affairs VP Mitchell Cox; Central Division VP Wally Henry; Cincinatti Regional Manager Bob Snay; scme 20 Pepsi-Cola Bottlers from four states; RKO General President John Poor; the Mayor of Toledo William Ensign; and a large assortment of prominent civic and political leaders, both state and local.
​
Some highlights of the events which led up to opening Day:
"Dealer Day" for 3,000 area dealers and their families, during which guests toured the plant and received door and drawing prizes.
​
An employee dinner for 550 employees and their families. Held at the plant, the gala evening featured a catered dinner, entertainment, a prize raffle and commemorative favors for everyone.
​
A press conference in the Commodore Perry Hotel, at with Bottler James Snyder, Miss Crawford, Mr. Barnet, and Mr. Newman starred. Arranged by Central Division PR man Mike Berger, the conference drew a fine turnout of media representatives from three television stations, four radio stations and the Toledo Times and the Toledo Blade.
​
A celebration banquet, held in horror of Bottler Synder, and attended by some 500 leading Toledans, visitors from other communities and Pepsi-Cola Bottlers – all of whom heard a brief address by Mr. Newman, during which he praised the Toledo management for possessing what he described as "the most important ingredient: An intimate, practical knowledge of the soft-drink business."
​
Mr. Newman also presented Mr. Synder with the New Plant Plaque, and Miss Crawford and Mr. Barnet presented him with a clock-barometer for his office.
​
When the Great Day itself dawned – a day that had been announced through special radio and TV tags for one week prior to the open house, and through newspaper ads and truck banners carried on the Toledo organization's 60-truck fleet – the unthinkable happened: It rained. And rained.
Nothing daunted, the principals in ceremony calmly followed the "rain plan." The entire shebang was moved into the plant, the Woodward high School Band played bravely and RKO General Bottlers of Toledo, Inc had themselves a plant that was "officially" open. And, equally undaunted – from morning until late afternoon when the sun finally came out – some 30,000 visitors jammed through the new facility, meeting Miss Crawford, tasting Pepsi-Cola, getting door prizes and favors and, for an especially lucky few, drawing prizes of, among other things, radios, TV sets, picnic coolers and Pepsi-Cola.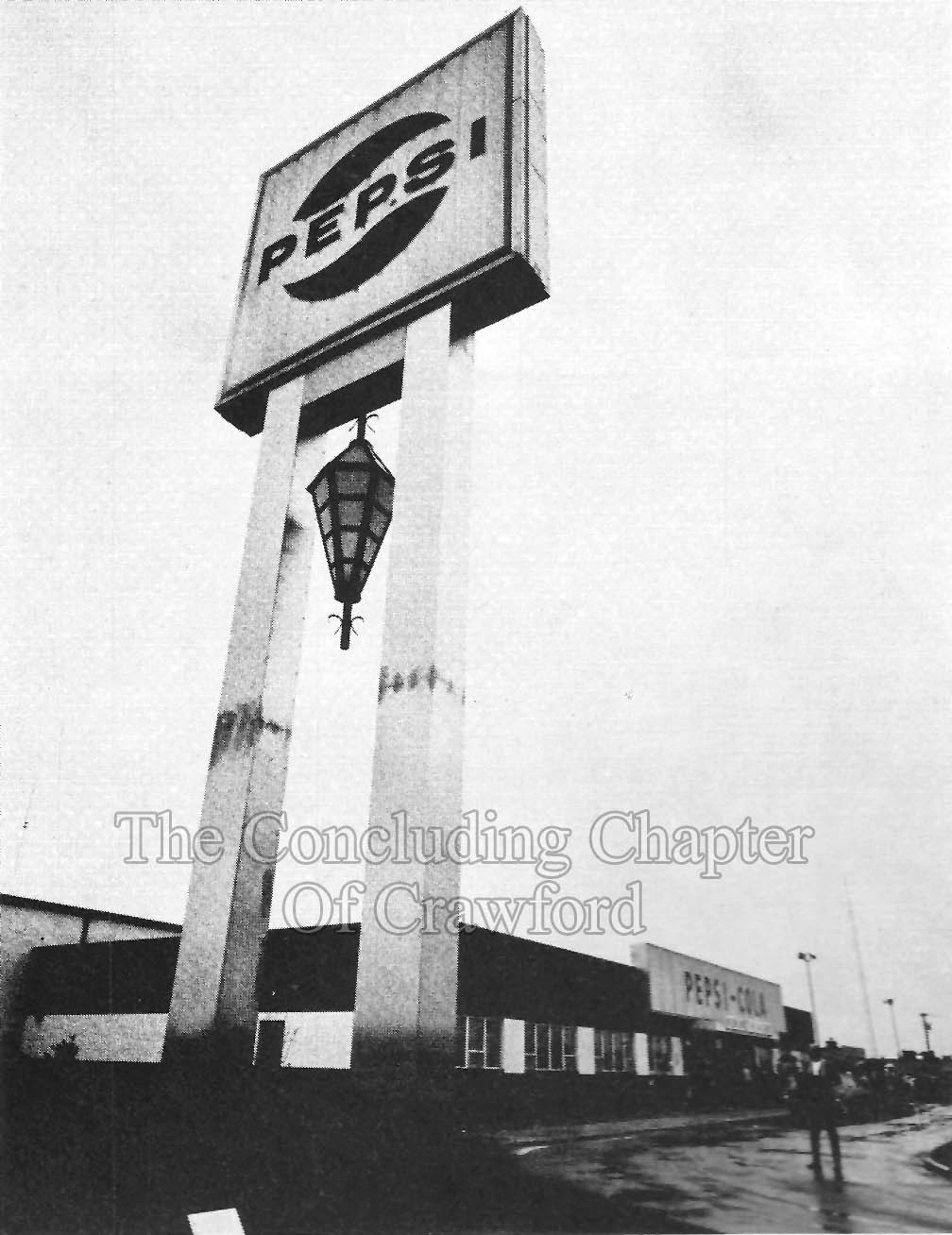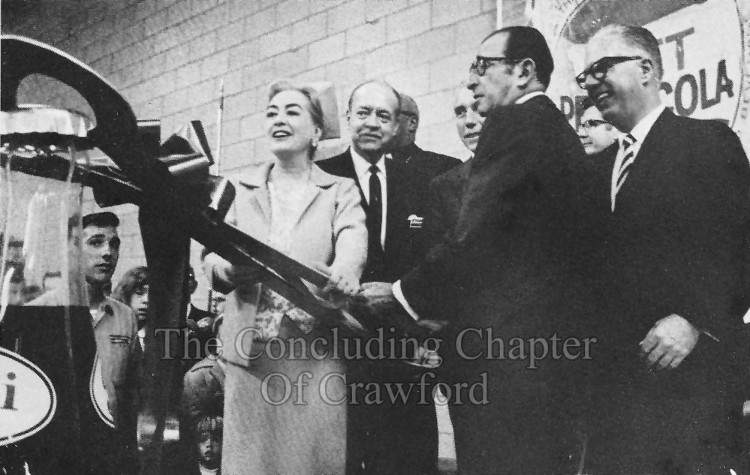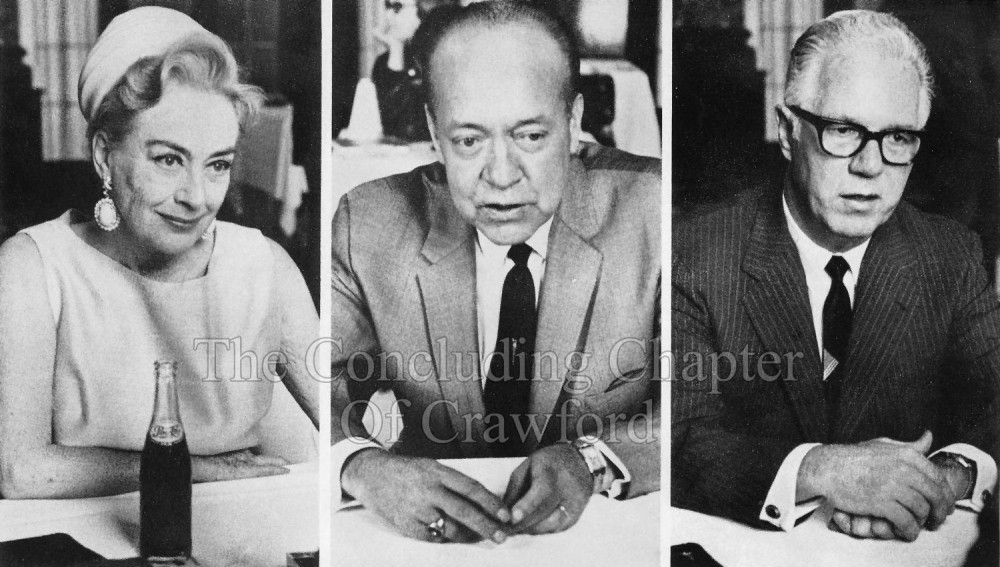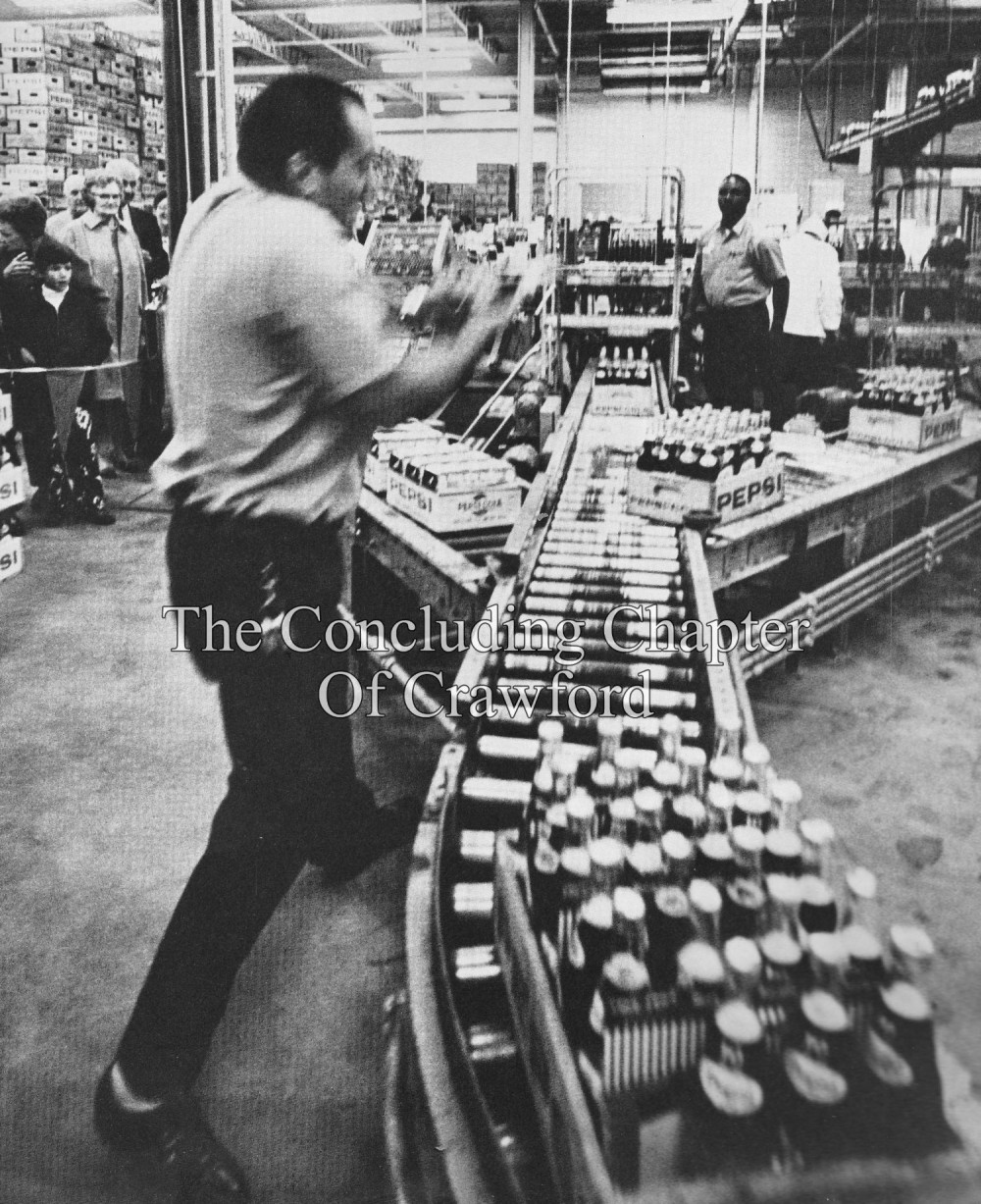 Joan "Popping the top" of the Toledo's new Pepsi-Cola plant.
​Pictured here with Herbert L. Barnet, James Snyder, RKO General president John Poor and William Newman
Joan with Toledo Bottler James Synder and Pepsi-Cola Executive VP William Newman at press conference at the Commodore Perry Hotel.