Debunking Joan Crawford's Birth Year
Exhibit A: Joan's Stephens Junior College records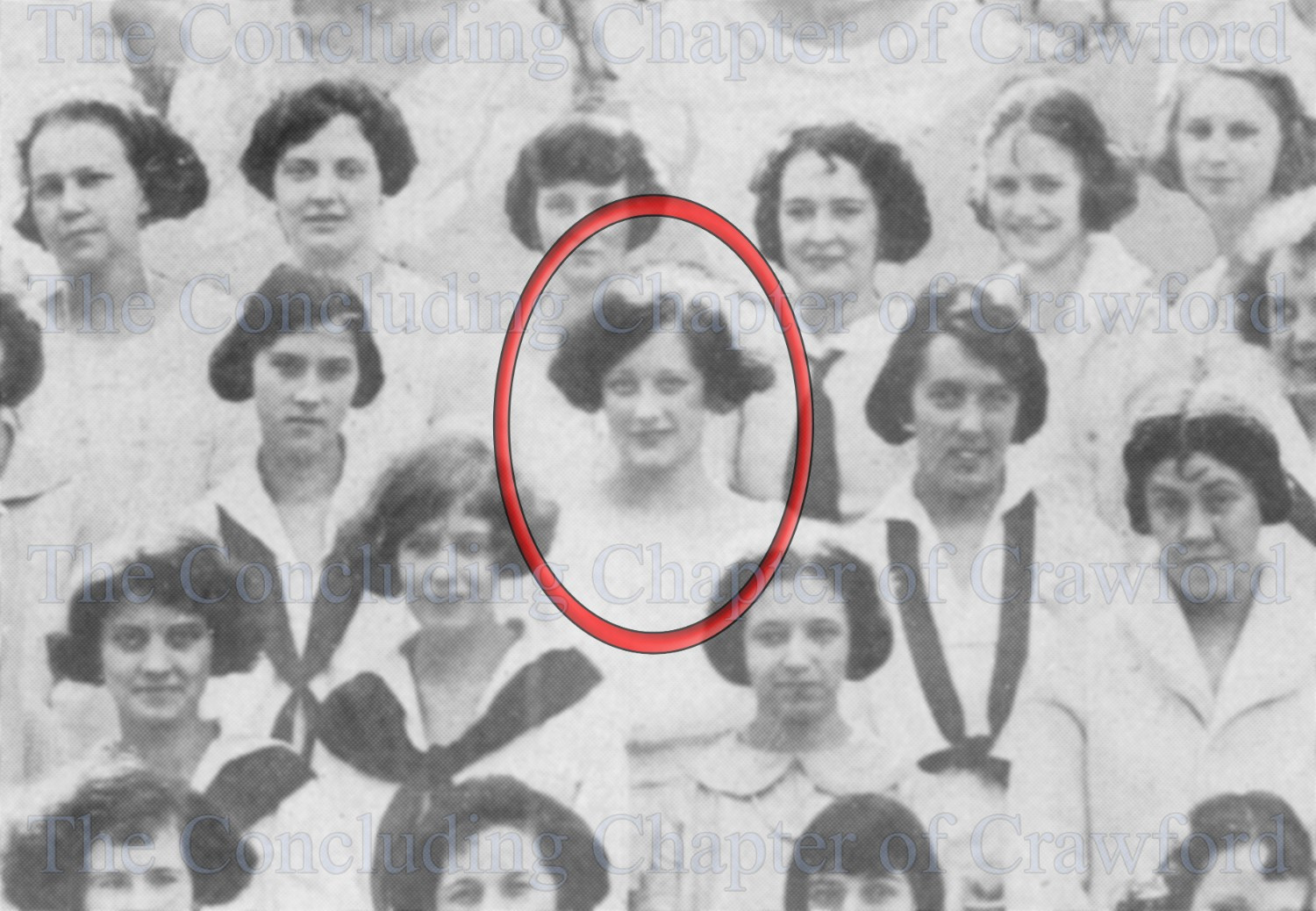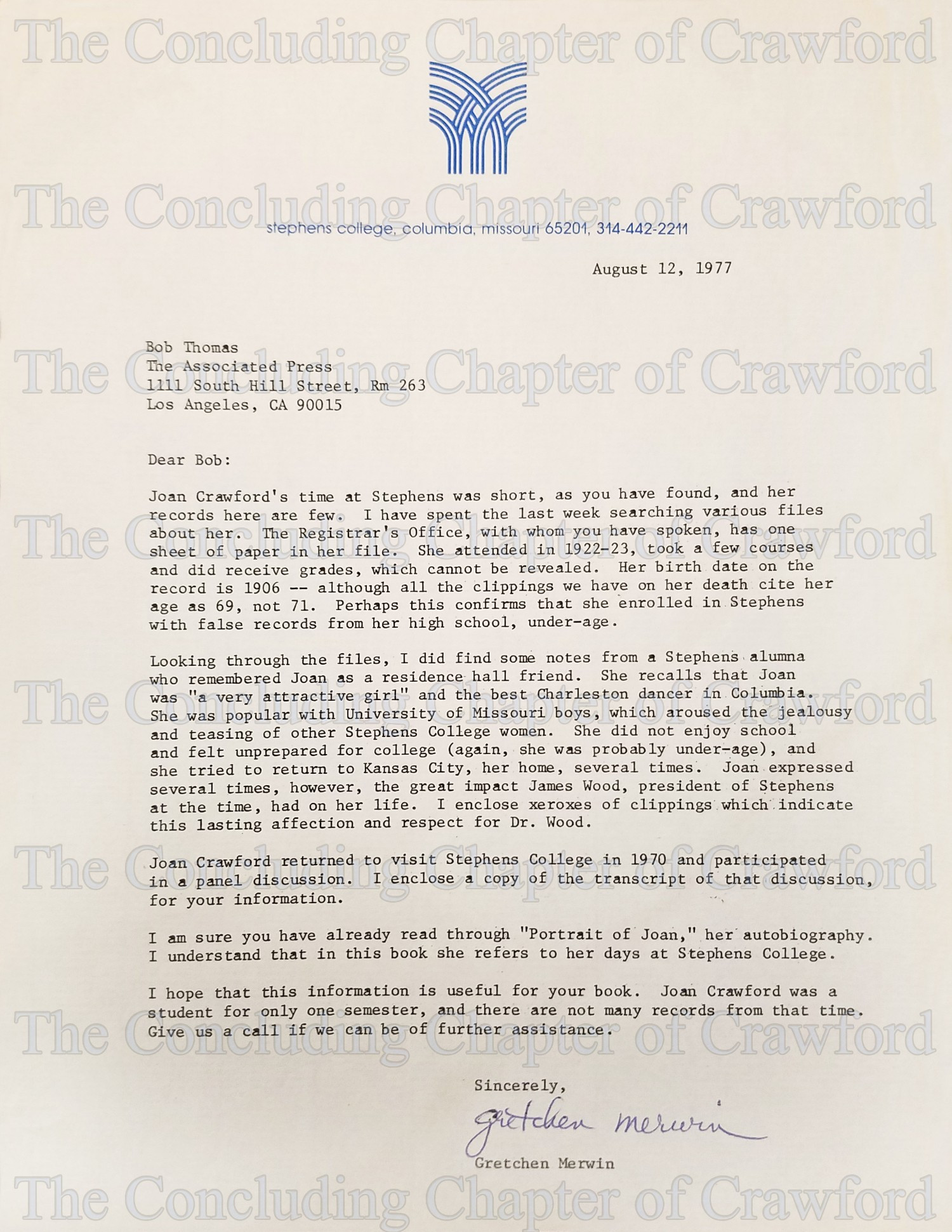 Above: the 1922 Stephens College student body, with Lucile Cassin (aka Joan Crawford) circled (October 20th, 1922)
Joan's mother enrolled her at Stephens Junior College in Columbia, Missouri for the 1922 fall semester under the name "Lucile Cassin." At the time of her enrollment, Joan's date of birth was given as March 23rd, 1906. The minimum age of enrollment was 16. Going by the 1906 birth year, Joan would have been age 16 upon her enrollment in the fall of 1922.
Unlike the other rumored years of birth, 1906 is the only known birth year documented on any official records prior to Joan's career at MGM. Following January 1925, Joan's year of birth was always given as 1908 on official documents.
Above: an August 12th, 1977 letter from Stephens Junior College to Crawford biographer Bob Thomas confirming the 1906 birth date

Above: Highlighted is Joan's photo and name in the 1922-1923 yearbook at Stephens College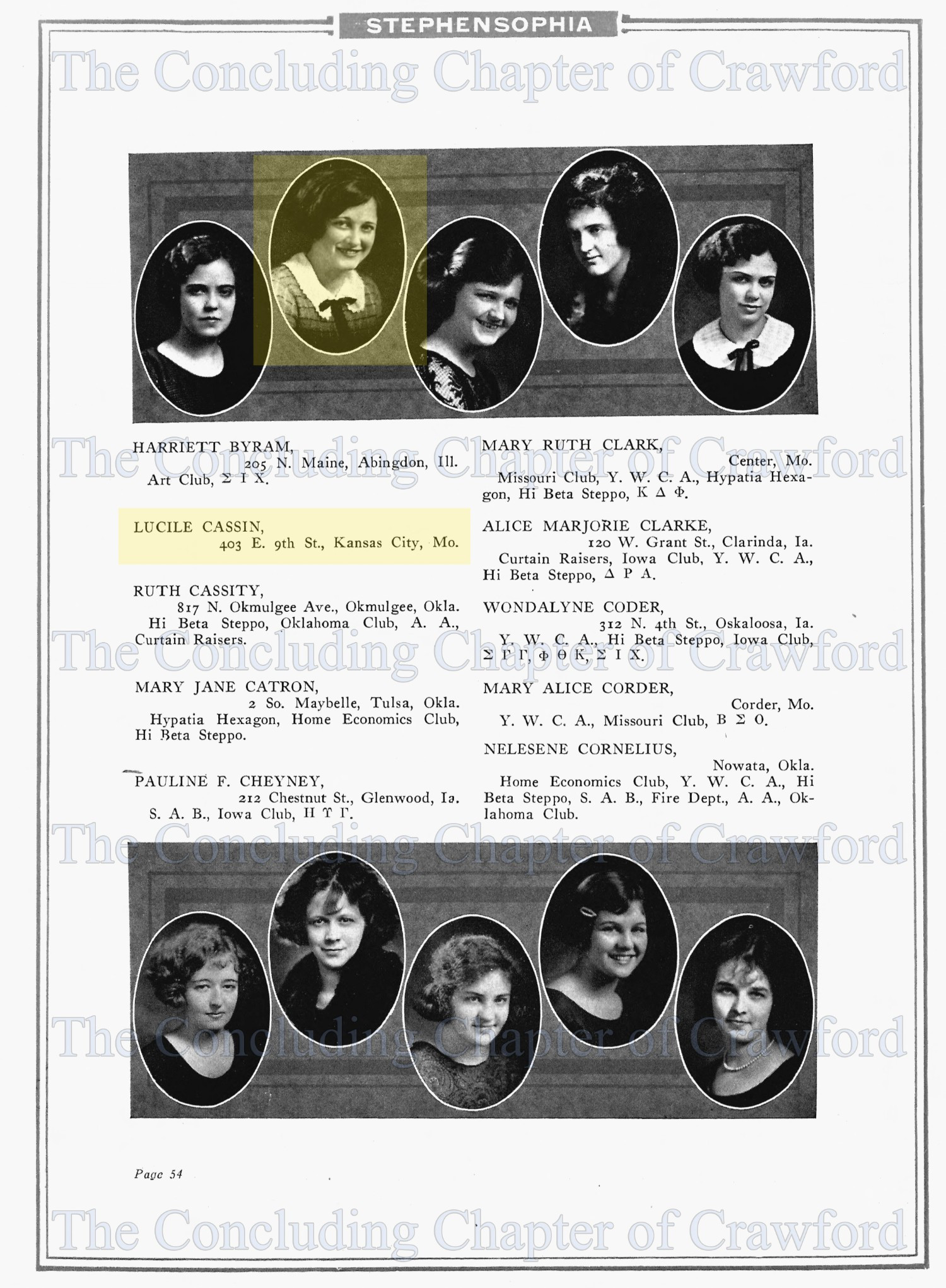 Exhibit B: Joan's age in 1920s publications
In addition to Joan's school records providing a 1906 birth year for her, 1906 is also consistently cited as Joan's birth year in publicity articles from 1928 until 1929. Prior to 1928, Joan's age was not cited in any articles, and in some articles it stated that Joan refused to reveal her age.
The statistical information about Joan in these articles would have most likely been supplied direct to the publications by MGM's publicity department. These publications were prior to Joan's marriage to Douglas Fairbanks, Jr on June 3rd, 1929; which is the time many Crawford scholars believe Joan (with MGM's assistance) altered her age to make herself younger, and closer to Fairbanks' age of 19. On Joan's New York marriage license to Fairbanks she listed her age as 21 (with a March 23rd, 1908 birth year).
Following Joan's marriage to Fairbanks, she categorically maintained her birth year as 1908 until her death. However, as exhibited below in over half a dozen examples, 1906 was consistently printed in magazines and newspapers as Joan's year of birth prior to the Fairbanks marriage. The last example below (April 1930) demonstrates that 1906 was still occasionally printed after 1929. Therefore, to believe Joan's year of birth is anything other than 1906, one would have to believe that MGM brazenly changed Joan's year of birth not once, but twice; From 1904 or 1905 to 1906, then yet again to 1908. This would be an absurd theory with no logical or factual basis. Additionally, please visit the 1904 and 1905 debunking pages, which demonstrates, with full evidence, why 1904 is physically impossible; and why 1905 is improbable with no credible source.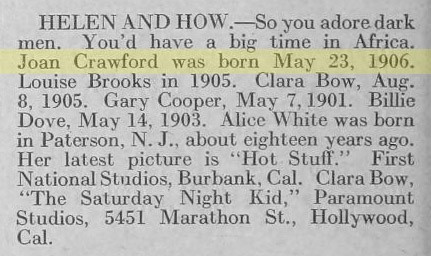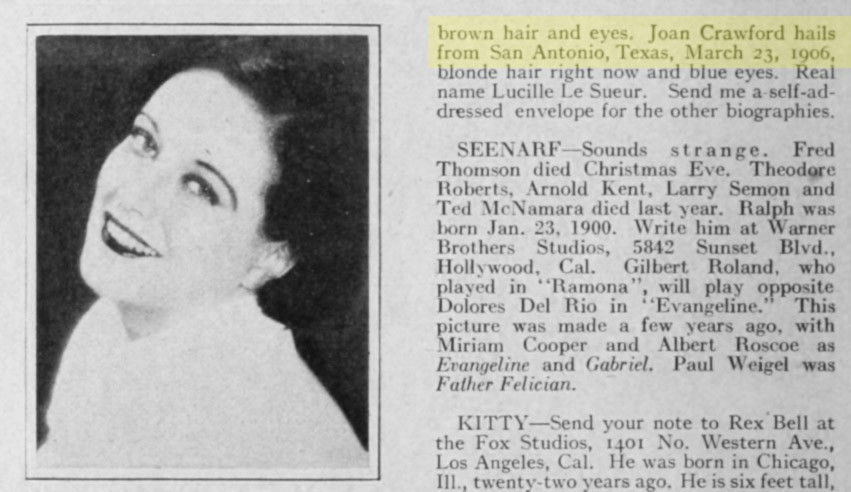 "Photoplay" Magazine (July 1928)
"Motion Picture" Magazine (September 1928)
"Picture Play" Magazine (December 1928) (Note: This incorrectly states May, not March, for the month of birth)
"Motion Picture" Magazine (January 1929)
"Motion Picture" Magazine (February 1929) (Note: This incorrectly states May, not March, for the month of birth)
"Photoplay" Magazine (April 1929)

"Photoplay" Magazine (April 1930)